What is a Like?
A Like is a content rating system that lets you vote for the messages you think are the most useful or important.
When you give a Like to a message, you are showing appreciation for good content and a pat on the back to its author. This helps to boost the value of certain messages and enhance the reputation of their authors.
Giving this is as easy as a single click, but the impact of the Thumbs Up ripples across the community.
How do I give a Like?
You can give this to any post in the community except your own.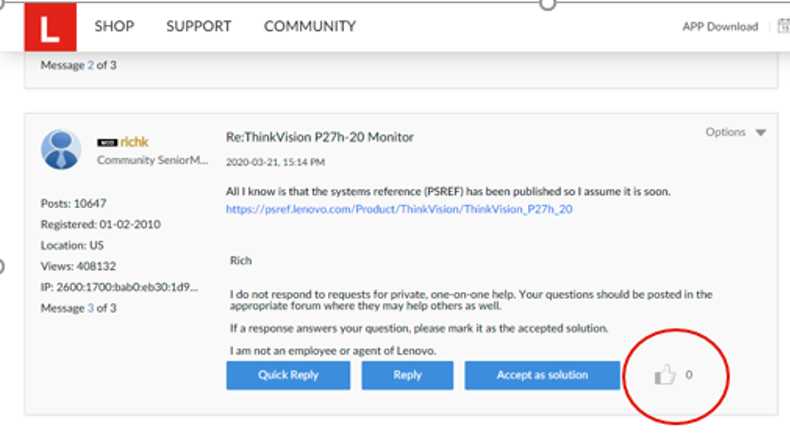 To give a Like to a message and its author, click on the circled icon above.
If you change your mind about the quality of the message, you can revoke your Like. To revoke your Like you've given, click the button again.
How can I see who's given me a Like?
Want to know who thinks a message is good? It's easy to find out which regular community members and community experts have given a Like to a message. Likes from community experts can carry more weight than those from brand new members. (Community Administrators can choose to have these granted by experts carry more weight than those granted by regular members.)
To see who's given you a Thumbs Up:
Go to the message page.
Click the Likes total.
The Who Liked this Message page shows you all the community members who've given a Like to the message.
Click Experts to see kudos given by high-ranking members of the community.
Experts are usually moderators and other users who had a Like weight of more than 1 when they gave the message the Like.
Click the Date Liked, User ID, or or Thumbs Up link to sort this page by the date the Like were given, the name of the user who gave it or by the Like count.
How can I see which messages or authors have received the most Likes?
There are usually two Likes leaderboards on the community's front page -- one for authors and another for messages. The author's leaderboard shows who has received the most Likes. The message leaderboard showcases the most Liked messages. Links from the front-page leaderboards take you to the full leaderboard pages.
To view the Top Liked Messages leaderboard, click view all from the front page module.
To view the Top Liked Authors leaderboard, click view all from the front page module.
How can I see who has given me a Liked?
To see who's given you a Like:
Go to your profile page.
Your Profile pages shows the names of community members who have given you a Like, the messages they Liked, your top messages, and the Likes you've given.
To see all of your recent Thumbs Up activity in an area, click View All.
Click the tabs to see more info about your Like activity.
What is Like weight?
Your Likes weight is the number of Likes you give each time you click the icon.
If you're new to the community, your Likes weight is probably 1 (each Like counts as 1). More experienced community members might have a higher Like weight, so they could give two Likes, ten, or more each time they click.
Why can't I give a Like to some messages?
There are a few reasons why you might not be able to give them to a post.
You've already given a Like to this message (you can only give them once).
You wrote the message (you can't mark your own messages).
Your Community manager wants you to give the Like only to a message that starts a thread and not to Replies.
Your Community Manager has turned this function for a message or a forum.
Your Community Manager has frozen the function for this message. You can still see how many Likes the message has received, but you can't do anything else to it any more.
Where did the Likes number go?
Sometimes a message gets so many Likes that we run out of space to show the number. When that happens, you'll see a Hot symbol or icon instead of the Likes count.
Comments