Another year, another CES, and another pre-production laptop to test and enjoy. This year it's a high-spec X280. The below is not a review – more of a quick survey of specifications and a look at the usual things that I find of interest. But first:
From time to time Lenovo sends me a gadget. They're handy to have around – both for my own use and when trying to help out in the Lenovo forums. I do some testing and writing as well. Beyond the use of the laptop, I'm not otherwise compensated.
Professional images are Lenovo's. Amateur snapshots are mine. Opinions are exclusively mine. I do not work for, represent, or speak for Lenovo.
Introduction
This X280 is the successor to the X270. I haven't had any keyboard time with the earlier x270 but looking over its specs and documentation I'd call it a compact "conventional" laptop. The X280 moves more into the ultrabook range (non-removable battery, proprietary small Ethernet port…). Specifications and major differences between the '270 and '280 are called out below.
Lenovo Gallery
Please see the ThinkPad X280: Images thread for Lenovo images of the X280.
Specifications
Note: all specifications here are based on currently available documentation and the evaluation X280 as delivered. I've done my best to check them – but this is preliminary. Please do not make a purchase decision based on what you read here without verifying yourself.
Lenovo Data Sheet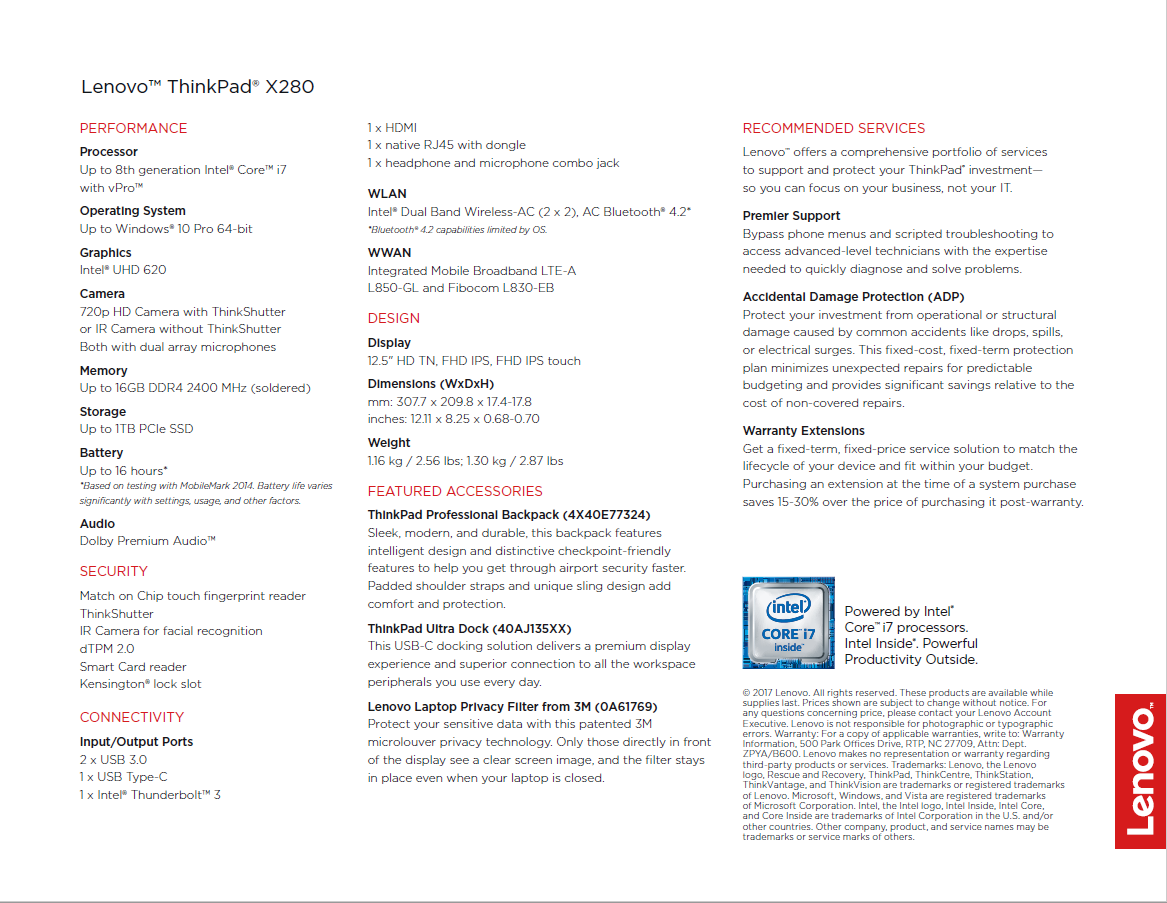 My unit's major specifications
CPU: Quad Core Intel i7-8550U @ 1.80GHz – 1.99GHz
RAM: 16GB DDR4 @ 2400 MHz (soldered)
SSD: 512GB Lenovo-branded PCIe
Graphics: Intel UHD 620
Display FHD IPS Touch – 10 touch points
Camera: 720p HD with privacy shutter
WLAN: Intel 8265 AC
WWAN: none
X280 / X270 specification major differences
CPU: up to 8th gen i7 quad core

/

up to 6th or 7th gen i7 dual core
RAM: up to 16GB DDR4 soldered

/

up to 16GB DDR4 single socket
Storage: PCIe SSD

/

7mm HDD or SSD, m.2 PCIe SSD
Graphics: Intel UHD 620

/

Intel 520 or 620
Display: HD TN, FHD IPS, FHD IPS Touch

/

HD TN, FHD IPS, FHD IPS, Touch
Camera: 720p HD Camera with ThinkShutter or IR Camera without ThinkShutter

/

720p HD
LAN: proprietary GigE port + RJ45 Dongle

/

GigE standard RJ45
WLAN: Intel (2 x 2) AC, Bluetooth 4.2

/

Various including WiGig
WWAN: (optional?) LTE-A L850-GL and Fibocom L830-EB

/

Various
Ports: 2 x USB 3.0, 1 x USB Type-C, 1 Thunderbolt™ 3, 1 x HDMI, 1 proprietary Ethernet with RJ45 dongle, 1 x headphone and microphone combo jack

/

Two USB 3.1 Gen 1 (USB 3.0, one Always On), USB 3.1 Type-C Gen 1, HDMI 1.4b, Ethernet (RJ-45), Dock connector
Docking: Side Dock using USB-C and Ethernet connectors

/

bottom port
Card reader: combo SIM + uSD carrier on back, (optional?) Smart Card reader

/

4-in-1 reader (MMC, SD, SDHC, SDXC), (optional) Smart Card reader
Battery: fixed internal

/

removable external + (optional) fixed internal
Power: charge via either USB-C port

/

charge via Slim Tip or USB-C port
Dimensions: mm: 307.7 x 209.8 x 17.4-17.8 inches: 12.11 x 8.25 x 0.68-0.70

/

mm: 305.5 x 208.5 x 20.3 inches: 12.03 x 8.21 x 0.80
Weight: 1.16 kg/2.56 lbs – 1.30 kg/2.87 lbs

/

1.27 kg/2.7 lbs – 1.52 kg/3.33 lbs
Among the welcome enhancements to the new model are a quad-core i7 CPU option (linked above) and a camera privacy shutter.


Privacy shutter open and closed
Front/Rear/Side Views and Ports

Front

Rear with SIM/uSD Tray

Left – USB-C, Thunderbolt, Proprietary Ethernet, USB 3.0, HDMI, Audio Combo

Right – Smart Card, USB 3.0, Lock
Assorted Information
The Lenovo-branded PCIe SSD is fast. Wireless AC hooks up with my AC 1900 router at 867mbps. SSD partitioning is as expected for a machine running a Push-Button Reset preload. (The ADATA in Disk Management is a flash drive … I forgot to unplug…)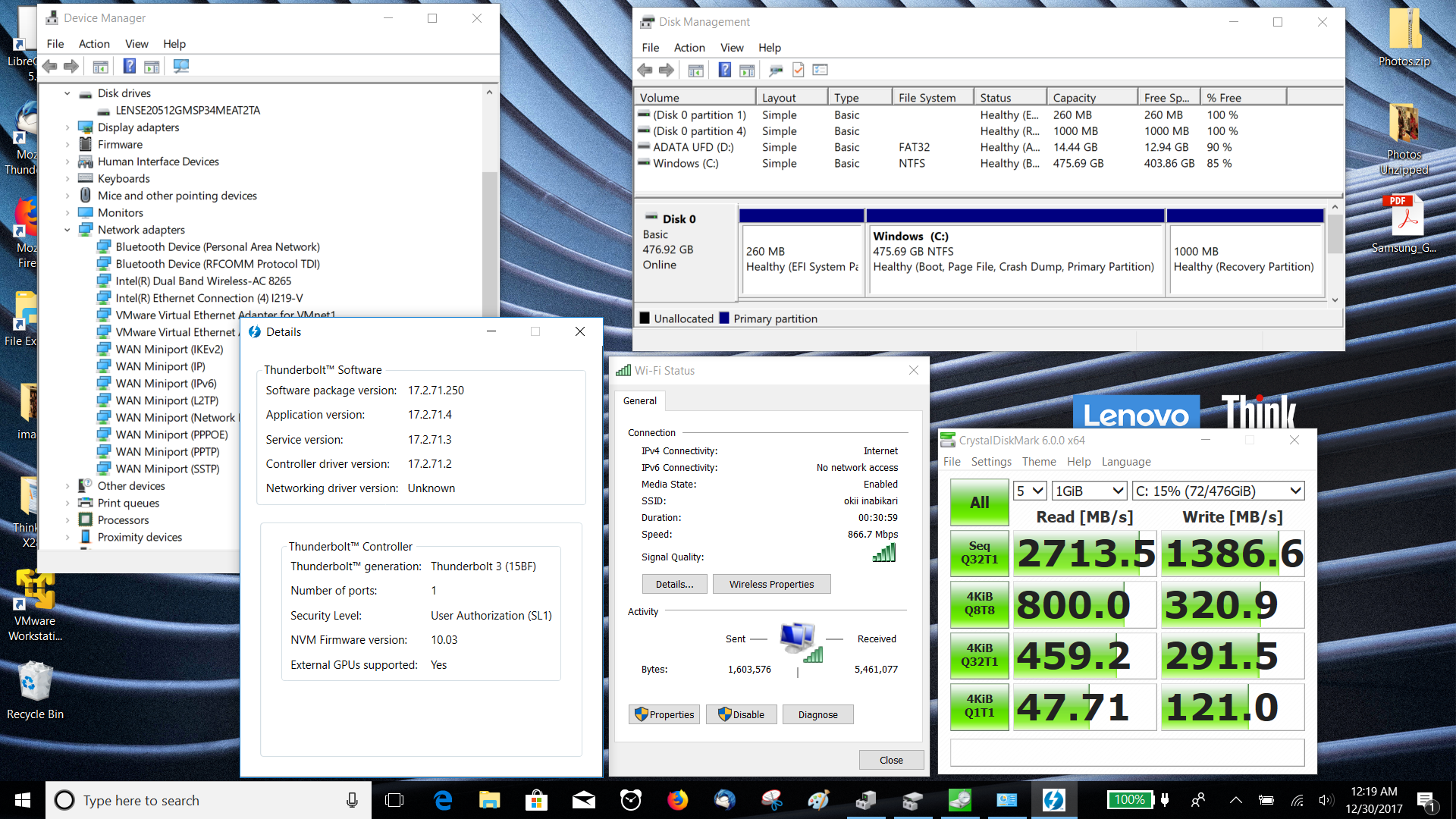 SSD Model, Partitioning, and Performance, Thunderbolt Details, WLAN Details
Virtualization
Intel VT-x was turned on by default in the test laptop's BIOS. In my working life I did some *nix driver development and support. VMs were handy when coding and for occasional use of tools that weren't available in windows (less of an issue now with Ubuntu & Bash on Windows). This i7 16GB laptop had no problems at all running multiple VMs.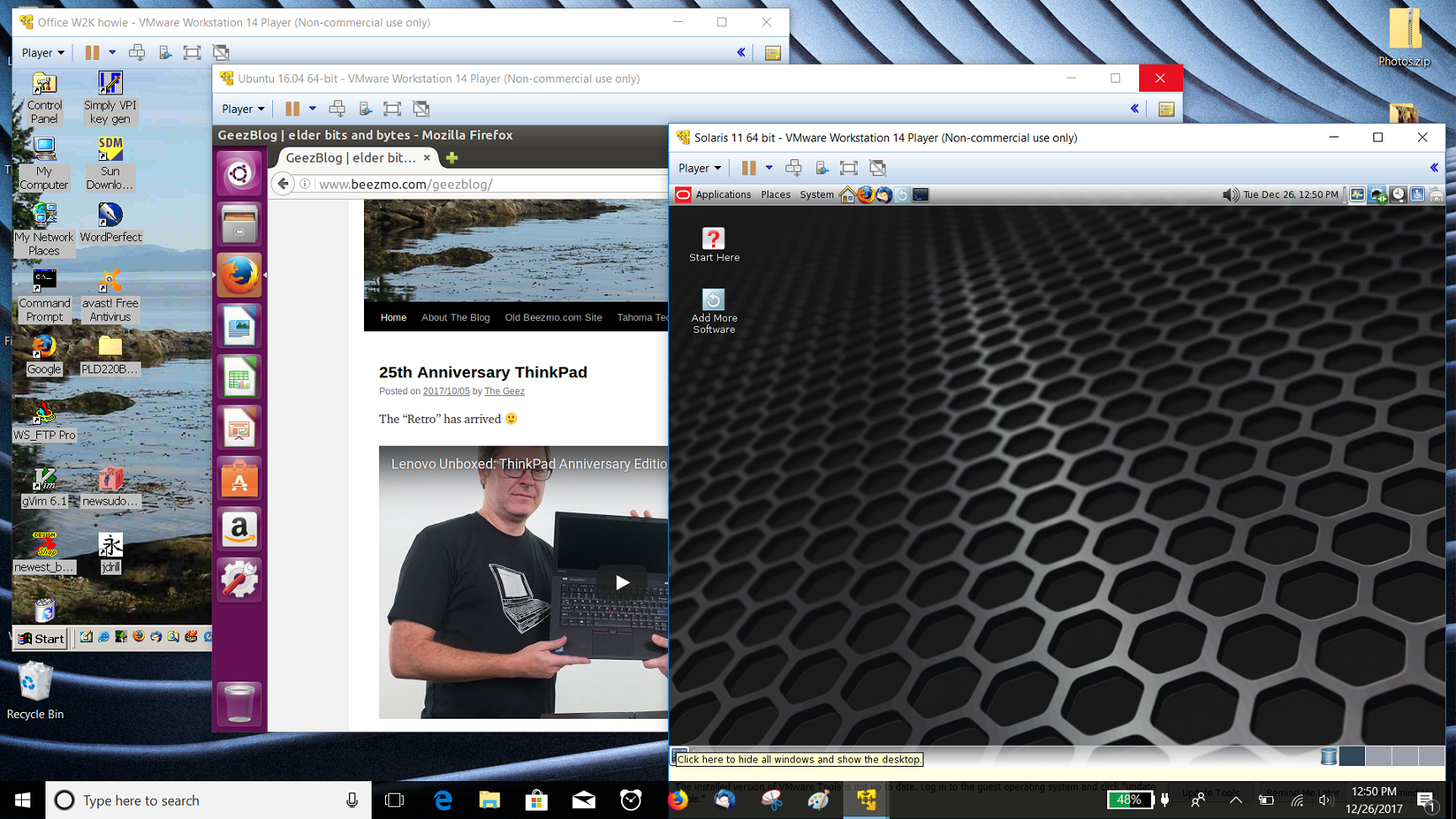 Linux
I don't often run Linux as a bare-metal install these days unless I'm testing a device driver (usually on a desktop). There are times when it's useful to run a live distro for forensics and/or recovery – and there are lots of folks who simply prefer Linux on their daily driver.
Testing with a live Ubuntu 16.10 and 17.04 produced mixed results. (I'm staying away from 17.10 until the dust settles on the UEFI "corruption" problem. There seems to be a fixed kernel now, and it doesn't seem to be an issue for ThinkPads – but better safe than bricked.)
A serious problem was lack of UltraNav input once booted to Ubuntu. The TrackPoint was completely unresponsive, and the touchpad would only occasionally respond. There's a long thread in the Lenovo Linux forum on what seems to be a similar [edit: perhaps unrelated] issue. I'm confident that the open-source wizards will fix this eventually. For now I did my testing with my favorite accessory: a Lenovo compact USB keyboard/TrackPoint combo. It at least allowed some continued testing and may help when trying fixes in the future.
[edit] Tested Ubuntu 17.10.1 live on a flash drive. The UltraNav problem persists. No TrackPoint, intermittent touchpad response, TrackPoint buttons clicks not recognized. Interestingly the "clickpad" aspect of the touchpad does seem to be recognized.
[more edit] Adding "psmouse.proto=bare" (without the quotes) to the linux line in the live flash boot stanza gets the basics of the TrackPoint and touchpad working :) The full grub2 stanza looks like the below. This is with Ubuntu 17.10.1: