Log into ThinkSmart Manager for the first time

ThinkSmart Manager is a cloud platform that facilitates remote deployment, setup, configuration, and monitoring of hubs linked to the platform.

1. Go to https://console.thinksmart.lenovo.com and log in with your Lenovo ID. The assumption is if you're reading this, you already have a Lenovo ID. If you want to create another one, continue by clicking "Sign up" and follow the on-screen instructions to create a new Lenovo ID. Ensure that you validate the e-mail that comes from Lenovo when you first create a Lenovo ID. Once you have validated using the link in the e-mail, you can try to log in to ThinkSmart Manager with your Lenovo ID.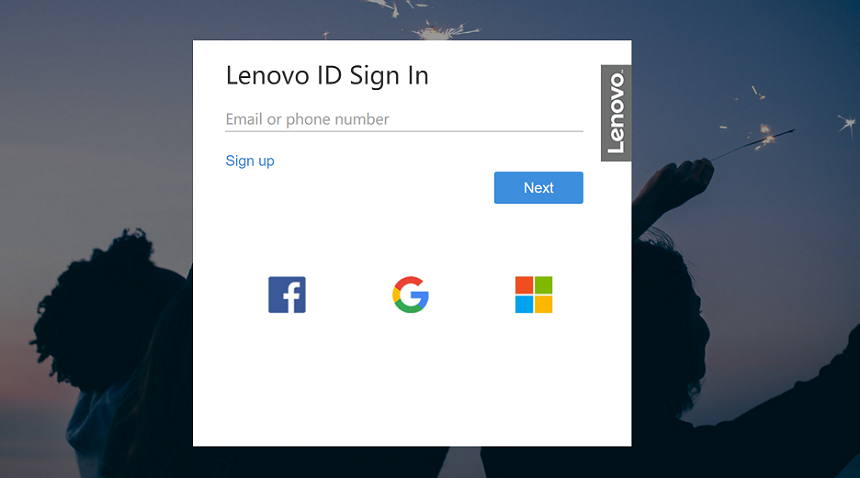 Important: Do not use Lenovo ID's Social Sign-on feature (Facebook, Google, or Windows® Live ID) for your ThinkSmart Manager. We recommend you use an e-mail address and password to ensure full functionality.
2. The first user from an organization will be required to create a new organization. Click Create a new organization and follow the on-screen instructions to fill in the required information.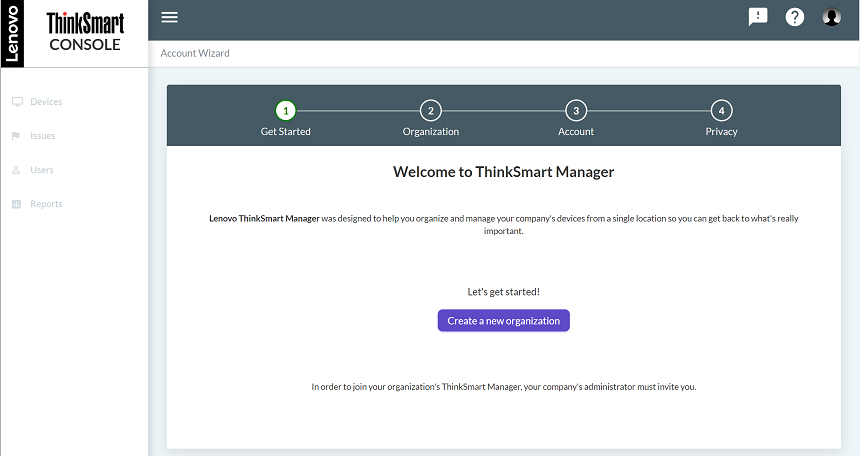 3. That first user is known as an Owner. The owner would send invites from within ThinkSmart Manager to people who need access in the organization.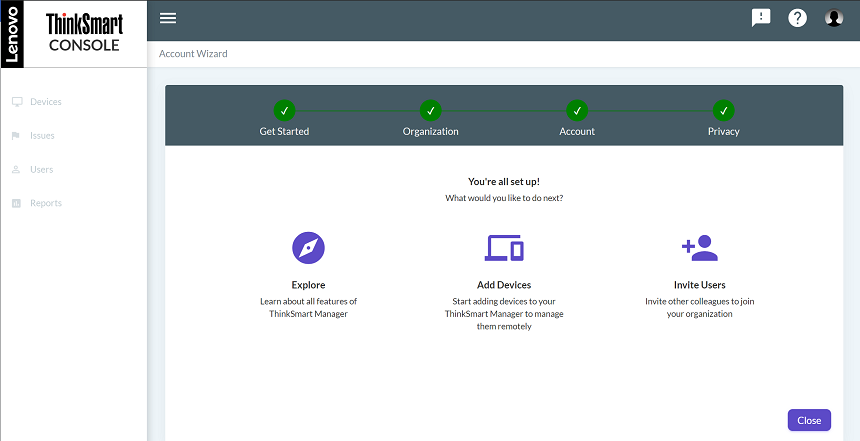 Install ThinkSmart Management Service on ThinkSmart Devices

Before you can start managing a ThinkSmart device with ThinkSmart Manager, download and install lenovo_thinksmart_setup.exe on the device first. This installer contains two Windows services, Lenovo ThinkSmart Management Service (LTMS) and Universal Device Client (UDC) that are necessary to work with ThinkSmart Manager will be installed.

Notes: Before you start, ensure that:
You have completed the first time creation of a Lenovo ThinkSmart Manager Organization.
The hub has completed Windows OOBE (Out of Box Experience, a Windows initialization process for users to do basic configurations) and is connected to the network with Internet access.

The default password for Windows administrator account has to be changed to something other than blank (no password) or default and equal or greater than 8 characters.
1. Download from lenovo_thinksmart_setup.exe , for advanced installer options goto: https://forums.lenovo.com/t5/ThinkSmart-Knowledge-Base/Lenovo-ThinkSmart-Management-Service-LTMS-Advance-Installer/ta-p/4581275
2. Copy the Downloaded file to a USB drive.
3. Connect to the USB drive to the Hub. On the MTR main menu, click the Settings icon in the lower right corner.
4. Click Settings ➙ Windows Settings ➙ Go to Admin Sign-in. Whenever prompted, enter the Windows administrator password.
5. From the Windows desktop, navigate to Windows file explorer and locate the lenovo_thinksmart_setup. exe file. Copy that file to the Hub's local storage, then Double-click the file to install.
6. Restart the Hub after the installation is completed.
For more information including please check the user guide here: https://support.lenovo.com/us/en/downloads/DS542392
Comments