The FX1800 has two DisplayPort sockets and one DVI-D socket. You'll need some combination of DP to VGA or DVI to VGA adapters to run two VGA displays. There are several alternatives.
Here is an example of some DVI to VGA adapters that should be in the $5-$10 range.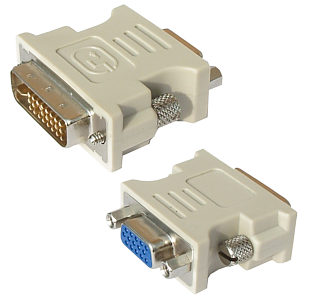 Lenovo also sells a direct displayport to vga converter. Keep in mind that not all DP->VGA dongles are created equally. There's quite a bit of logic in these dongles, and we've seen a vast difference in performance between different versions. Your best bet is to buy the Lenovo option here. Or better yet, check out which dongles are approved by Nvidia and make sure you get one off that list.
DP to DVI is pretty straight forward, but DP to VGA is a bit of a different beast. I'd recommend doing the DP to DVI if at all possible.
link: Lenovo DisplayPort to VGA Monitor Cable
You can also purchase it through authorized resellers such as buy.com and provantage:
http://www.buy.com/prod/lenovo-57y4393-vga-cable-displayport-video-hd-15-vga-7-8/q/loc/111/211914794.html